Big Frog finds a home in Murrumbeena's 'pond'
The peaceful village of Murrumbeena is soon to be home to an immense work of interactive installation art called The Story of Big Frog, comprising a 40-metre mural full of colour and vibrancy, populated with over 150 panels of curious and eclectic characters based on award winning artist Anthony Breslin's children's book, BREZANIA. 
Breslin is an established Australian artist whose decades-long, multifaceted career has included over 50 national and international solo exhibitions, several published books, self devised theatre performances and large scale community and charity projects. Community is one of his great passions, with its accompanying sense of the importance of belonging and rites of passage. He has long been connected with the Murrumbeena community through his creation of an Open Air Gallery within the Community Garden and the installation of 'Frogtopia', a colourful mural which can be found at the entrance of Murrumbeena Station, off Neerim Road. 
For 'The Story of Big Frog' it is the essence of community which has been the lifeblood of this immense public project which took Breslin and his assistants, a group of artist friends, on a creative journey which started in January 2020. Not long after, Melbourne was in lockdown and the project gave them hope and joy, bringing them together for an inspirational, purposeful mission throughout the extraordinary challenges that 2020 and 2021 have presented.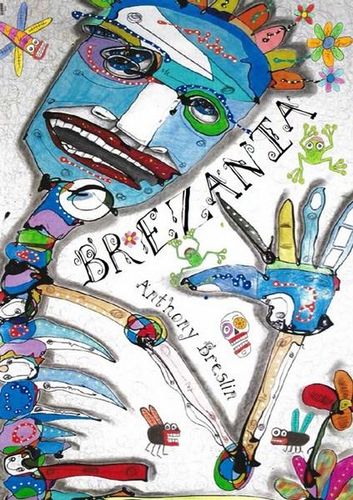 Based on 'The Story of Big Frog' from BREZANIA, the mural will represent the confluence between Big Frog, a character who follows his dreams from growing up in a little pond to performing all around the world, and Murrumbeena's Indigenous roots and historically swampy landscape. 
Big Frog's adventures will be inscribed on a panel as part of the installation and Breslin hopes the inspirational story of Big Frog will inspire and help lift community spirits in Murrumbeena and its surrounds.
As well as providing a focal point of interest and colour, Big Frog's journey will resonate with young and old, as well as mirroring the story of some of the 'Big Frogs' that grew up in Murrumbeena, the quiet, friendly, community-oriented village that takes pride in its slower pace. Murrumbeena has been the 'little pond' which nurtured a generation of the Boyd dynasty including Merric, Arthur and Guy Boyd, musician Nick Cave, Australian Broadcaster Libbi Gorr, Comedian Mark Trevorrow (a.k.a Bob Downe), Olympian Phillip Tracey and a number of AFL stars, before they took their leaps into the national and international spotlights. 
Once the wall was offered to Breslin by Murrumbeena local businessman and philanthropist, Mat Lowry, the mural project was given life by the invaluable financial support of the local business community and organisations. It has been proudly supported  by Glen Eira City Council, Rotary Club of Caulfield, the Glen Eira Artists Society, Daniel Son,  Levi, the Murrumbeena Village Traders and over 150 patrons via a crowdfunding campaign. 
The mural is due to be launched with a street festival on Railway Parade, June 5th 2021, as the Rotary Club of Caulfield's 100th Anniversary celebration gift to mark the 100th  anniversary of Rotary in Australia. It is going to be a fun and festive affair with frog inspired treats, street performers, face painting and kids activities on offer.